Hours of Operation and Mass Times
PARISH OFFICE & GIFT SHOP HOURS
Sunday 8 am-12 noon  and  Monday-Friday 10 am -2 pm. The gift shop is located in the Pastoral Office
CHURCH HOURS
Monday, Tuesday, Thursday, Friday, and Saturday 8am-5pm
Wednesday 8am-9pm
Sunday 8am-1:30pm
REGULAR MASS SCHEDULE
Sunday 8am, 10am,12 pm, and 4pm
Monday - Friday 12 noon
Saturday Vigil 4pm
Weekend Services are live-streamed on our You-Tube Channel
RECONCILIATION
Every Saturday Confessions at 3pm, Vigil Mass at 4pm, Confessions will continue after the 4pm Mass until the last penitent in line. In the "crying room" inside the church or by appointment call 818-889-1279.
ST. JUDE NOVENA
Wednesday Evenings at 7:30pm
PRAYER GROUPS:
CHRISTIAN MEDITATION PRAYER GROUP
Meets on Tuesday evenings at 7:30 PM until approximately 8:30 PM. Temporarily meeting on Zoom until further notice. Contact Ben Levine at 818-437-0560 or email
[email protected]
for Zoom invitation.
DAILY ROSARY
In the St. Jude Chapel at 11:15am on Monday, Tuesday, Thursday, Friday, and The Cenacle of Rosaries on Wednesday at 10am.
EUCHARISTIC ADORATION
Wednesdays 12:30pm-7:30pm
FATIMA ROSARY GROUP
First Tuesday of every month at 5pm at the Zimmerman home. Call 805-373-1099
LECTIO DIVINA
Every Thursday at 10:30am in the library. Contact Carmen Koros 805-494-9008 or Mirtha Vespe 818-261-6457
Livestream Weekend Mass
Saturday, June 3rd Vigil
4pm
Subscribe to our YouTube Channel to receive notifications when we are live.
Please Consider Online Giving-Click on the button below to make a one time or reoccurring donation using our online giving program, WeShare. Our parish is grateful for your continued support at this time.
Funerals
At the death of a loved one, kindly notify the Parish Center at your earliest convenience to schedule the funeral rites. Pastoral Office (818)889-1279 or email [email protected]
Click on the following link to view the video of the Commemoration of the Faithful Departed 2022 https://youtu.be/T7Qgj96Kxf0
Pray for Healing
Call the parish office (818) 889-1279 to add a name of a loved one who is in need of prayer. Names are removed after a period of one month.
Vincent Adams
Robert Armstrong
Baby Takeguma & Mary
Esteban Chavira
Caitlin Edge
Raquel Garrido
Alyssa Grodotzke
Guerra Family
Lucy Guerra
Milo Landry
Herlinda Martinez

Kayla McNair
Faith Ocasio
Jazmine Ocasio
Grayson Obligacion
Frank Ortiz
Angela Pezzulo
Tyler Thomas
Welling Family
EVENTS & HAPPENINGS
SCAM ALERT Fraudulent texts and emails are being sent by scammers posing as Fr. Jim. Please do not text or email the individual, divulge any personal information, or provide money/credit card/gift card payments. Remember, Fr. Jim, or any other member of St. Jude Parish, will never request money from any parishioner by email or text. When in doubt, contact us to authenticate the text message. Please forward any questionable emails claiming to be from Fr. Jim to [email protected]
VIRTUS Protecting God's Children Sessions Hosted by St. Jude Parish
A Child Abuse Awareness program required by the Archdiocese. Anyone 18 or over volunteering in liturgical ministry, working/volunteering at the parish school or in religious education at any level needs to attend a session. Reservations are necessary, no one under 18 may be present (even babies). To register visit https://www.saintjudetheapostle.org/safeguard-the-children
Upcoming sessions for Protecting God's Children:

6:30 p.m. – 9:30 p.m. June 19, July 10, August 14
8:30 a.m. – 11:30 a.m. August 28, September 18

Upcoming sessions for Keeping the Promise Alive Recertification only:

6:30 p.m. – 8:00 p.m. June 26, July 24, August 21, September 25
PARENT PRAYER GROUP Join us every Wednesday at Foxfield Park from 8:30 – 9:30 for prayer. Children are welcome. Come meet other parents and pray for each other! Questions? Contact Cristie Linn [email protected]. No RSVP necessary, just show up!
HIGH SCHOOL MINISTRY Every other Tuesday from 6pm-7:30pm Next dates: 6/6, 7/11, and 7/25. Drop by for a night of Pizza, fun, and enjoy a community of other Catholic teens. For questions email Francis [email protected]
YOUNG ADULT MINISTRY Our Young Adult Ministry is a setting for adults ages 18-40 to explore their Catholic faith, find significance, and experience community with other young Catholics. Join us for Bible study and get to know new faces. Upcoming dates: 6/8, 7/6, and 7/13 from 6pm-7:30pm in the Confirmation and Youth Room. Drinks for 21+, snacks provided.
CHILDREN'S LITURGY OF THE WORD Next session: Sunday, June 4. Children grades Pre-K through 5 are invited to join us during the 10AM mass on the first Sunday of each month to listen to the Scripture and reflect on the readings at a level they can more easily understand. Children leave Mass after the opening prayer and return after the homily. The CLW team needs volunteers to help us so we can expand the program to weekly. Please contact Rick and Teresa Ysasi [email protected] if you'd like to explore joining this ministry.
GIVING OPPORTUNITIES
CHURCH TRUCK DONATION The St. Jude parish truck is nearing retirement, therefore we are currently in need of a gently used, structurally sound pre-owned pickup truck to sustain our programs and services. Our programs rely heavily on the use of a truck for delivering recyclables to recycling centers, hauling donations to charity centers, delivering goods to food pantries, delivering lunches to the homeless, and much more. If you or your business have a gently used truck/pickup truck to donate to the parish please contact Father Jim [email protected] or call the office at 818-889-1279 and ask for Father Jim or our Parish Business Manager Mary McLafferty. Thank You.
RECYCLING AND FOOD COLLECTION: Next Collection June 17.
On the third Saturday of every month from 9am-10am. You are invited to drive through St. Jude's parking lot as many third Saturdays of every month as you can to drop off a bag(s) of food AND your aluminum cans and plastic drink bottles with a CRV
continue reading
SANDWICH MINISTRY: Next meeting is June 19.
Join us once a month to pack 250 bag lunches for those in poverty at Harbor House and senior residents at Many Mansions in Thousand Oaks. It's fun and a great way to give back to the community. We meet continue reading
Free Online Platforms
FORMED.org is a premier on-line platform filled with over 4,000 Catholic studies, movies, cartoons, audio dramas, ebooks, and talks – and it's free for every parishioner thanks to a very generous parish family. Continue Reading
WORD ON FIRE ENGAGE Free Subscription Our parish has purchased a subscription so that all parishioners can choose to join and receive access to Bishop Barron's videos - The Mass, The Catholicism Series, Pivotal Players and many more! Continue Reading
THE CATECHISM IN A YEAR Understand your Catholic faith with The Catechism in a Year Podcast with Fr. Mike Schmitz! By listening to this podcast, Catholics will Continue Reading
ARCHDIOCESE GIVING CAMPAIGNS
TOGETHER IN MISSION 2023 As one Catholic community of faith, let's be rooted in prayer and reflect how we can continue to help our struggling parishes and schools in the Archdiocese of Los Angeles well into the future. Give now at the following link https://timgive.org/
---
CALLED TO RENEW The primary goals of the campaign are to help parishes fulfill their mission to serve others and to share the good news of Jesus Christ. Fifty percent of every dollar raised at each parish will be returned to the parish for its own needs. Once the goal is reached, the parish will receive 100% of each dollar collected above goal. This is a tremendous opportunity for parishes to expand and strengthen their ministries and programs. Parishes will also receive additional funds for their respective deferred maintenance needs. For more information or to make a donation please visit https://calledtorenew.org/parishes/st-jude-the-apostle-westlake-village/
Receive our bulletin via email as soon as it becomes available. Click the Subscribe Now button.
Place your business ad in our bulletin As a valuable member of the business community, we invite you to expand your reach and grow your business with a print ad in our parish bulletin and/or a digital ad featured on ParishesOnline.com. Call 336-601-6245
Daily Readings
Weekly reading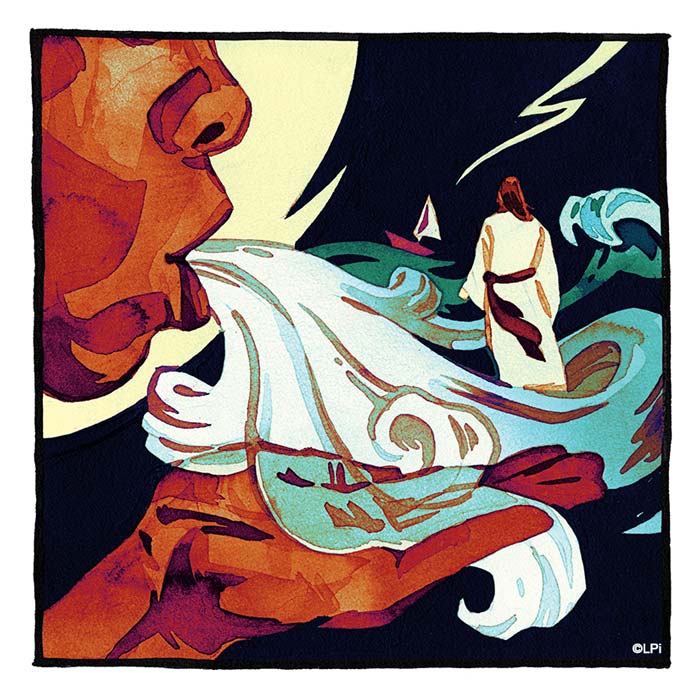 Weekly reading
Readings for the week of June 4, 2023
© Liturgical Publications Inc