Hours of Operation and Mass Times
PARISH OFFICE & GIFT SHOP HOURS
Monday-Friday 9am -4pm
Sunday 8am-12pm
The gift shop is located in the Pastoral Office

CHURCH HOURS
Monday, Tuesday, Thursday, Friday, and Saturday 8am-5pm
Wednesday 8am-9pm
Sunday 8am-1:30pm

REGULAR MASS SCHEDULE
Sunday 8am, 10am,12 pm, and 4pm
Monday - Friday 12 noon
Saturday Vigil 4pm
Weekend Services are live-streamed on our You-Tube Channel

RECONCILIATION
Every Saturday Confessions at 3pm, Vigil Mass at 4pm, Confessions will continue after the 4pm Mass until the last penitent in line. In the "crying room" inside the church or by appointment call 818-889-1279.

ST. JUDE NOVENA
St. Jude's Novena Wednesday evenings at 7:30pm inside the church. This is a particularly important time for us to turn to our great patron, the Saint of Hopeless Cases and Lost Causes.
Livestream Weekend Mass
Saturday, September 30th Vigil
4pm
Subscribe to our YouTube Channel to receive notifications when we are live.
Please Consider Online Giving-Click on the button below to make a one time or reoccurring donation using our online giving program, WeShare. Our parish is grateful for your continued support at this time.
Funerals
At the death of a loved one, kindly notify the Parish Center at your earliest convenience to schedule the funeral rites. Pastoral Office (818)889-1279 or email [email protected]
Click on the following link to view the video of the Commemoration of the Faithful Departed 2022 https://youtu.be/T7Qgj96Kxf0
Pray for Healing
Call the parish office (818) 889-1279 to add a name of a loved one who is in need of prayer. Names are removed after a period of one month.
Paul Bethancourt
Federico Cardenas
Caitlin Edge
Raquel Garrido
Alyssa Grodotzke
Kelly McDade Markgraf
Lindsey Mazur

Alonso Meza
Grayson Obligacion
Mina Paredes
Edward Simburger
Theresa Simburger
WJG
PRAYER GROUPS
CHRISTIAN MEDITATION PRAYER GROUP Meets at 7:30pm on the first Tuesday of every month and the other Tuesdays on Zoom. Contact Ben Levine at 818-437-0560 or email [email protected] for Zoom invitation. All are welcome.

DAILY ROSARY In the St. Jude Chapel at 11:15am on Monday, Tuesday, Thursday, Friday, and The Cenacle of Rosaries on Wednesday at 10am.

EUCHARISTIC ADORATION Wednesdays 12:30pm-7:30pm

FATIMA ROSARY GROUP First Tuesday of every month at 5pm at the Zimmerman home. For details please call 805-373-1099

LECTIO DIVINA Estas invitada a participar todos los Jueves, a las 10:30 am en la Biblioteca de la Iglesia para orar, meditar, contemplar, y compartir la lectura bíblica del evangelio dominical. Para más información, comunícate con Mirtha Vespe al 818-261-6457 o con Carmen Koros al 805-494-9008.Lectio Divina meets every Thursday at 10:30 am in the Library. Questions, contact Mirtha Vespe at 818-261-6457 or Carmen Koros at 805-494-9008.
PARENT PRAYER GROUP Join us every Wednesday at Foxfield Park from 8:30 – 9:30 for prayer. Children are welcome. Come meet other parents and pray for each other! Questions? Contact Cristie Linn [email protected]. No RSVP necessary, just show up!
Place your business ad in our bulletin As a valuable member of the business community, we invite you to expand your reach and grow your business with a print ad in our parish bulletin and/or a digital ad featured on ParishesOnline.com. Call 336-601-6245
Free Online Platforms
FORMED.org is a premier on-line platform filled with over 4,000 Catholic studies, movies, cartoons, audio dramas, ebooks, and talks – and it's free for every parishioner thanks to a very generous parish family. Continue Reading
WORD ON FIRE ENGAGE Free Subscription Our parish has purchased a subscription so that all parishioners can choose to join and receive access to Bishop Barron's videos - The Mass, The Catholicism Series, Pivotal Players and many more! Continue Reading
THE CATECHISM IN A YEAR Understand your Catholic faith with The Catechism in a Year Podcast with Fr. Mike Schmitz! By listening to this podcast, Catholics will Continue Reading
Daily Readings
Weekly reading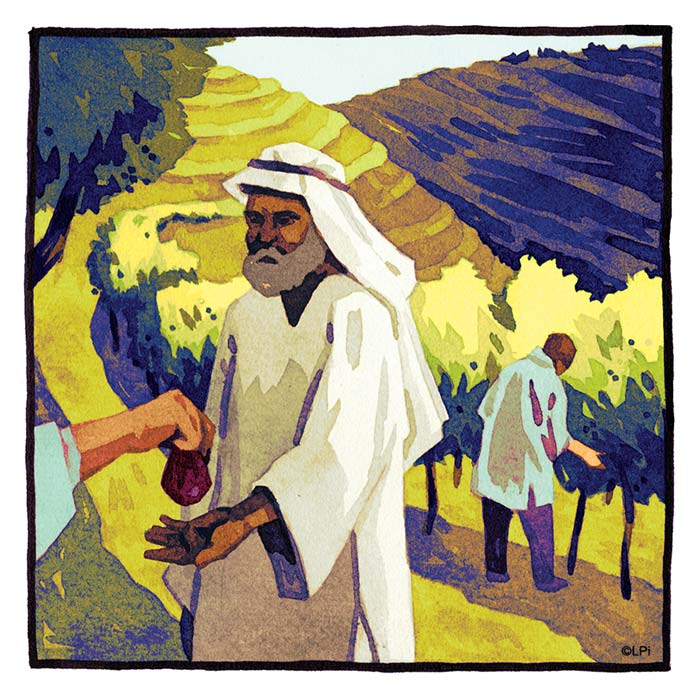 Weekly reading
Readings for the week of September 24, 2023
© Liturgical Publications Inc