Livestream Weekend Mass
Saturday, April 1st Vigil 4pm
Holy Thursday Mass of the Lord's Supper, April 6th 7:30pm
Holy Saturday, Easter Vigil, April 8th 7pm
Subscribe to our YouTube Channel to receive notifications when we are live.
Please Consider Online Giving-Click on the button below to make a one time or reoccurring donation using our online giving program, WeShare. Our parish is grateful for your continued support at this time.
Hours of Operation and Mass Times
PARISH OFFICE & GIFT SHOP HOURS
Sunday 8 am-12 noon  and  Monday-Friday 10 am -2 pm. The gift shop is located in the Pastoral Office
CHURCH HOURS
Monday, Tuesday, Thursday, Friday, and Saturday 8am-5pm
Wednesday 8am-9pm
Sunday 8am-1:30pm
REGULAR MASS SCHEDULE
Sunday 8am, 10am,12 pm, and 4pm
Monday - Friday 12 noon
Saturday Vigil 4pm
Weekend Services are live-streamed on our You-Tube Channel
RECONCILIATION
Every Saturday Confessions at 3pm, Vigil Mass at 4pm, Confessions will continue after the 4pm Mass until the last penitent in line. In the "crying room" inside the church or by appointment call 818-889-1279.
ST. JUDE NOVENA
Wednesday Evenings at 7:30pm
PRAYER GROUPS:
CHRISTIAN MEDITATION PRAYER GROUP
Meets on Tuesday evenings at 7:30 PM until approximately 8:30 PM. Temporarily meeting on Zoom until further notice. Contact Ben Levine at 818-437-0560 or email
[email protected]
for Zoom invitation.
DAILY ROSARY
In the St. Jude Chapel at 11:15am on Monday, Tuesday, Thursday, Friday, and The Cenacle of Rosaries on Wednesday at 10am.
EUCHARISTIC ADORATION
Wednesdays 12:30pm-7:30pm
FATIMA ROSARY GROUP
First Tuesday of every month at 5pm at the Zimmerman home. Call 805-373-1099
LECTIO DIVINA
Every Thursday at 10:30am in the library. Contact Carmen Koros 805-494-9008 or Mirtha Vespe 818-261-6457
Special Confession Times for Holy Week
Monday, April 3 at 7pm
Tuesday, April 4 at 7pm
Wednesday, April 5 at 2-5pm and 7pm
Holy Thursday
Mass of the Lord's Supper
April 6th at 7:30 pm
Good Friday
Proclamation of the Passion, Veneration of the Cross, and Communion Service
Friday, April 7th
Noon Mass
6 pm Mass
Holy Saturday
Vigil of Easter
Saturday, April 8th at 7 pm
Easter Sunday of the Resurrection of the Lord
Sunday, April 9th
8 am
10 am
Noon
(no evening mass)
Funerals
At the death of a loved one, kindly notify the Parish Center at your earliest convenience to schedule the funeral rites. Pastoral Office (818)889-1279 or email [email protected]
Click on the following link to view the video of the Commemoration of the Faithful Departed 2022 https://youtu.be/T7Qgj96Kxf0
Pray for Healing
Call the parish office (818) 889-1279 to add a name of a loved one who is in need of prayer. Names are removed after a period of one month.
Esteban Chavira
Caitlin Edge
Alyssa Grodotzke
Marina Laygo
Gustavo Martinez
Nesta

Grayson Obligacion
Angela Pezzullo
Mirna Salvatierra
Richard Silvestri
Suzy Valdespino
Tax Statement Request
To request a printout of your 2022 Donations to St. Jude the Apostle Catholic Church, please email or call Barbara Farmer, Parish Business Manager, with the following information: name, address, phone number, and envelope number. Email Barbara Farmer [email protected] OR call (818)889-1279 ext. 223
EVENTS & HAPPENINGS
SCAM ALERT Fraudulent texts and emails are being sent by scammers posing as Fr. Jim. Please do not text or email the individual, divulge any personal information, or provide money/credit card/gift card payments. Remember, Fr. Jim, or any other member of St. Jude Parish, will never request money from any parishioner by email or text. When in doubt, contact us to authenticate the text message. Please forward any questionable emails claiming to be from Fr. Jim to [email protected]
School Teaching Assistant
Our school, St. Jude the Apostle School, is looking for a full-time and part-time Teaching Assistant for the 2023-24 school year! Candidates must have prior experience working with students, preferably working in a school setting. We need individuals that are energetic, can be on their feet most the day and ready to work with students as young as Kindergarten. If interested, please contact the school's principal, Mr. Martin Freel via email at
[email protected]
Applicants must submit a resume and at least two references to be considered for the position. Please consider joining our team today and help educate the hearts and minds of our children everyday!
40 DAYS FOR LIFE -
The Beginning of the End of Abortion
40 Days for Life is an intensive campaign that focuses on 40 days of prayer and fasting for an end to abortion, peaceful vigil at abortion facilities, and grassroots educational outreach.
Attend a Vigil:
Outside Planned Parenthood, 1200 W. Hillcrest Dr., Thousand Oaks vigil hours are 7 am to 7pm daily. Sign up for a 2 hour shift (bring a friend) by contacting Richard Wormus 818-731-6949. Or visit the campaign website
40daysforlife.com/thousandoaks
to signup.
Continue reading
BEETHOVEN MASS IN C
The Conejo Valley Choral Society presents their Spring Concert featuring Beethoven's Mass in C and Vaughan Williams' 5 Mystical Songs. DATES: Apr 29, 7:00 PM – 8:30 PM and Apr 30, 2:00 PM – 3:30 PM. Location: St Jude the Apostle Church, 32032 Lindero Canyon Rd, Westlake Village. ADMISSION: Adult $25 and Student $10. To purchase visit
https://www.conejovalleychoralsociety.com/season
VIRTUS SESSIONS HOSTED BY ST. JUDE -
A Child Abuse Awareness program required by the Archdiocese. Anyone 18 or over volunteering in liturgical ministry, working/volunteering at the parish school or in religious education at any level needs to attend a session. Reservations are necessary, no one under 18 may be present (even babies). For session dates and to register click on the following link
https://www.saintjudetheapostle.org/safeguard-the-children
HIGH SCHOOL MINISTRY
Every other Tuesday from 6pm-7:30pm Next dates: 4/11, 4/25, 5/9, 5/23. Drop by for a night of Pizza, fun, and enjoy a community of other Catholic teens. Please message Francis with any questions at

[email protected]
YOUNG ADULT MINISTRY Our Young Adult Ministry is a setting for adults ages 18-40 to explore their Catholic faith, find significance, and experience community with other young Catholics. Join us for Bible study and get to know new faces. Upcoming dates: 4/6, 4/20, 5/4, 5/18 from 6pm-7:30pm in the Confirmation and Youth Room. Drinks and snacks provided.
BOOK CLUB
meets for rewarding discussion throughout the year. Meetings are held in the St. Jude Library from 6:30 PM – 8:00 PM. New members are always welcome. The next meeting is April 20 and the book selection is
Mere Christianity
by C. S. Lewis. Please contact Marilyn Grodotzke at
[email protected]
with questions.
GIVING OPPORTUNITIES
40 DAYS - 40 PIECES Loaves and Fishes invites you to share with those in need this Lent by NOT JUST GIVING SOMETHING UP—BUT BY GIVING. WHY? WE ARE JESUS' HANDS AND FEET. Matthew 25:36 "I was naked, and you clothed me...you did it for me." As we head into spring, we all have pieces of clothing in our closets which are rarely used. There are more ... continue reading
USED PROM DRESS COLLECTION Kids Helping Kids is collecting gently used prom dresses for needy high school girls in Ventura County. Collected items are sent to farm workers' families and children's shelters. This is a wonderful way to engage parish students in sharing with peers in need. Please check your closets and drop them in the parish office by Monday, April 17. For questions or to arrange a pick up call Sue Cass (818) 735-7946 or Cindy Kozal 818-889- 0612 to arrange a pickup.
RECYCLING AND FOOD COLLECTION: Next Collection April 15. On the third Saturday of every month from 9am-10am. You are invited to drive through St. Jude's parking lot as many third Saturdays of every month as you can to drop off a bag(s) of food AND your aluminum cans and plastic drink bottles with a CRV continue reading
SANDWICH MINISTRY: Next meeting is April 17. Join us once a month to pack 250 bag lunches for those in poverty at Harbor House and senior residents at Many Mansions in Thousand Oaks. It's fun and a great way to give back to the community. We meet continue reading
Free Online Platforms
FORMED.org is a premier on-line platform filled with over 4,000 Catholic studies, movies, cartoons, audio dramas, ebooks, and talks – and it's free for every parishioner thanks to a very generous parish family. Continue Reading
WORD ON FIRE ENGAGE Free Subscription Our parish has purchased a subscription so that all parishioners can choose to join and receive access to Bishop Barron's videos - The Mass, The Catholicism Series, Pivotal Players and many more! Continue Reading
THE CATECHISM IN A YEAR Understand your Catholic faith with The Catechism in a Year Podcast with Fr. Mike Schmitz! By listening to this podcast, Catholics will Continue Reading
ARCHDIOCESE GIVING CAMPAIGNS
TOGETHER IN MISSION 2023 As one Catholic community of faith, let's be rooted in prayer and reflect how we can continue to help our struggling parishes and schools in the Archdiocese of Los Angeles well into the future. Give now at the following link https://timgive.org/
---
CALLED TO RENEW The primary goals of the campaign are to help parishes fulfill their mission to serve others and to share the good news of Jesus Christ. Fifty percent of every dollar raised at each parish will be returned to the parish for its own needs. Once the goal is reached, the parish will receive 100% of each dollar collected above goal. This is a tremendous opportunity for parishes to expand and strengthen their ministries and programs. Parishes will also receive additional funds for their respective deferred maintenance needs. For more information or to make a donation please visit https://calledtorenew.org/parishes/st-jude-the-apostle-westlake-village/
Receive our bulletin via email as soon as it becomes available. Click the Subscribe Now button.
Place your business ad in our bulletin As a valuable member of the business community, we invite you to expand your reach and grow your business with a print ad in our parish bulletin and/or a digital ad featured on ParishesOnline.com. Call 336-601-6245
Daily Readings
Weekly reading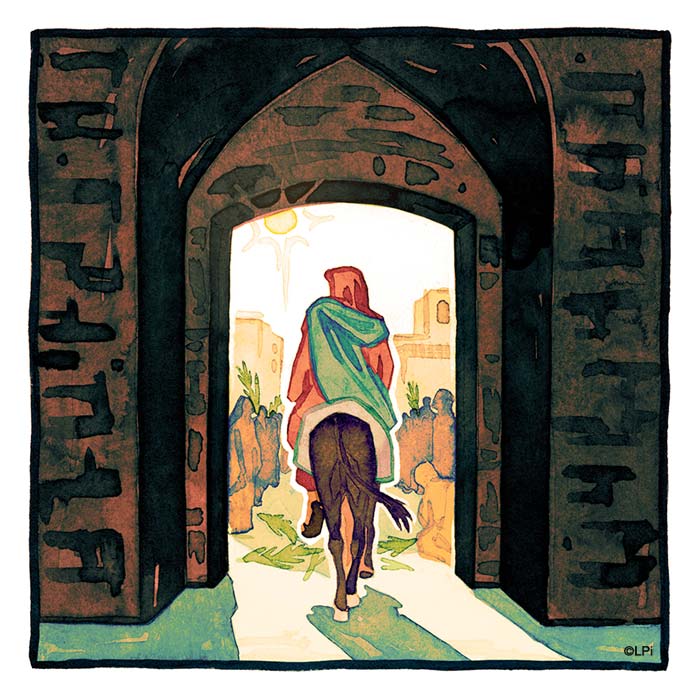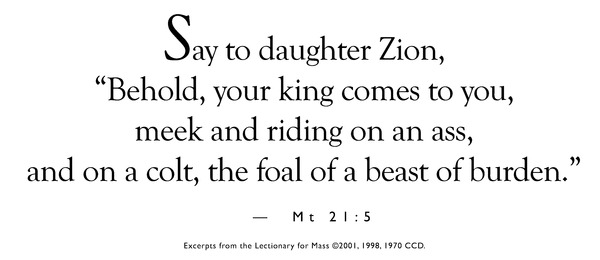 Weekly reading
Readings for the week of April 2, 2023
© Liturgical Publications Inc